BIO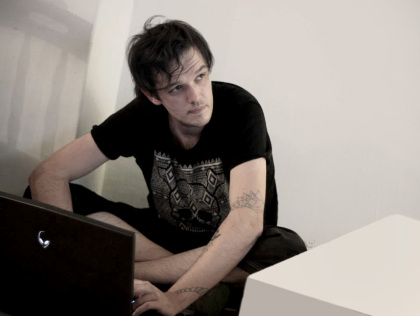 Zsolt Korai is a visual artist with various skills in digital and electronic design and programming, including realtime generative graphics, animation, projections, live interaction,
custom electronics and 3D printing. Throughout the years he has been working with leading theatre and dance companies and music performers both in independent and commercial projects in Hungary,
touring with various performances to cities like Berlin, Prague, Munich or New Jersey, while participating in the work of Hungarian Telekom's innovation laboratory Kitchen Budapest,
and teaching programming in a number of institutions. He moved to Iceland in the autumn of 2014.
Born in 1985 in Tatabánya, Hungary.
Currently living in Stuttgart, Germany.

Skills:
VVVV, interactive installation, mapping, projection, Sony softwares, Adobe softwares, Fusion, Max-MSP, DMX control, Invent, Inventor, 3D printing, 3D printer building, Eagle,
PCB design, SMD soldering, electronics, animation, traditional graphical procedures (etching, engraving, lithography), drawing, painting, illustration.
Studies:
2004-2010 Moholy-Nagy University of Art and Design (Budapest) MSC of Animation Director
2008 autumn: Three-month Erasmus Scolarship in Brussels – École de Recherche Graphique

Languages:
English (working knowledge)
Hungarian (mother tongue)
Teaching experience:
Visual programming course – BKF University of Applied Sciences Budapest 2010, 2014
VVVV course with David Morasz at Av Open Studio 2013
Physical programming course – Moholy-Nagy University of Art and Design 2011

Books:
Generative Imaging Textbook and video tutorials for BKF University of Applied Sciences Budapest in English and Hungarian at 2014.
(The Generative Imaging curriculum's main subject is the graphic programming language called VVVV.)
Job:
2008-2014 (with some breaks) Researcher at Kitchen Budapest

Download my CV in PDF
Projects in Iceland:
EYLAND – BECAUSE THE NIGHT Show at RFF 2015,  15x4m interactive catwalk with 2x20m wall projection for music, 2015
Aurora installation – RP Media/Icelandair Mid-Atlantic, Leapmotion and Windows tablet PC controlled realtime Aurora drawing projection, 2015
Exhibition, Installation:
.
The Great Church of Debrecen, interactive historical exhibition with E8 labor, Softwares and electronics
(Kinect-based floor projection, leap controlled book pager and object display in 3D, 3D architectural display for tablet with gyro, digital guestbook, etc.), 2015 january
TAKTUS Mapping installation for the glass artist Dóra Varga, 2014
TOA Berlin installation with Kitchen Budapest, Kinect-controlled Toa Logo mapping at Berlin, 2013
Between Historical Traumas travelling exhibition with E8 labor, Kinect-based floor projection, 2013
Christmas interactive mapping for Hungarian Telekom with Kitchen Budapest, Interactive mapping, with Dávid Mórász, 2012
Expo Real 2012 Budapest Stand with Kitchen Budapest, Kinect-based wide screen with animation and interactive menu (3 projectors), 2012
Paint Up! 2012 With Bordos Artworks Closing animation, and a Kinect-controlled interactive mapping, 2012
Display II > for Goethe Institut Budapest, Kinect-controlled music installation with László Kiss and Kibu, 2012
Prague Quadrennial – Memorial Exhibition of Mihály W. Bodza  Projection software, animation, 2011 Gold Prize
Music Videos/Performances
Marge – Stronger Music video visuals, 2014
Viktor Király: Running Out Of Time – A Dal 2014 Visual concept for the performance of Viktor Király in the Hungarian pre-selection show finals for the 2014 Eurovision Song Contest.
Viktor Király: Running Out Of Time ft. DMC Music video visuals, 2014
Marge: Morning Light – A Dal 2014 Visual concept for the performance of Marge in the second semi-finals in the Hungarian pre-selection show for the 2014 Eurovision Song Contest
Marge – Under the Visible Line Show Realtime projection visuals for live performances, 2013
PAT Realtime visuals for music, 2013
Szilvia Kárászy & Zoltán Kamondi: Psyché at the Béla Bartók National Concert Hall, Palace of Arts, Budapest, realtime animation programming, 2012
Pleq and Marihiko Hara – One Last Dream Of Being On This Universe Music video with generative graphics, 2011
Kriszta Kováts: Arany-óra at the Festival Theatre Palace of Arts, Budapest, interactive animation programming, 2008
FineArtsMusic Visuals for live performances, 2003-2014
Theater performances
The Collective of Natural Disasters & Rita Góbi: aUTÓNOM zÓNAT at Trafó House of Contemporary Arts, Budapest, animation, 2014
The Symptoms: Apropo 2.0 at Alexander Kasser Theater NJ, visual designer, pre-programming, 2014
The Collective of natural Disasters: eldorado.com, Animation programming, electronics, 2013
Rita Góbi: The Last Supper at Mu Theatre, Realtime animation programming, 2013
Enikö Eszenyi: Horace McCoy- They Shoot Horses, Don't They?
and Docekal Michal: Bertolt Brecht-Der gute Mensch von Sezuan at Vígszínház, Video software for 6 projectors, 2012
PanoDrama: To study, to study, to study at Trafó, Animation programming, 2012
The Symptoms: Vote at Trafó House of Contemporary Arts, Budapest, Voting system hardware and software design and implementing, 2012   Lábán Rudolf Award for the best dance performance of the year 2012
The Collective of Natural Disasters: (IN)FINITY at Trafó House of Contemporary Arts, Budapest, realtime animation and electronics, 2012  Lábán Rudolf Award for the best dance performance of the year 2012
Zoltan Kamondi: Dorota Maslowska – "Miedzynami dobrze jest" at Bárka Theatre, Video software and animation, 2012
The Collective of Natural Disasters: Aura  at Trafó House of Contemporary Arts, Budapest, realtime animation and electronics, 2011
Jeruville vol3 Realtime video programming, 2011
Enikö Eszenyi: Shakespeare-Romeo & Julia at Vígszínház, Video software and animation, 2011
Zoltán Kamondi: Yasmina Reza-God of carnage at Vígszínház, Realtime video programming, 2011
The Collective of Natural Disasters: POR-HÜVELY at Trafó House of Contemporary Arts, Budapest, electronic design, 2010
Molière – Dunajcsik: T@rtuffe.hu Realtime video programming, 2010
Kata Juhász: Lulu, the bad student  at MU Theatre, Realtime animation programming, 2010
The Collective of Natural Disasters: Jom and Terry Syndrome at Trafó House of Contemporary Arts, Budapest, realtime animation, 2010
The Symptoms: The Meaning of Life or passing away time in 60 minutes, Sound system design (Max-Msp), 2009
Kata Juhász: Juxtaposition at MU Theatre, Realtime animation programming, Music, 2009
Artus-Gábor Goda: RoosterRoosterRooster at Trafó House of Contemporary Arts, Budapest, Interactive animation and electronic design, 2009
Kata Juhász: Gaspard de la Nuit, Realtime animation, 2008
Kata Juhász: Une femme  Realtime animation programming, 2008